The following information was posted by
David Lohr
in his blog The HuffPost on AOL news on 7/26/11 03:35 PM. Being from KY I wanted to highlight this sad story in hopes of getting Paige's story out there to even more readers.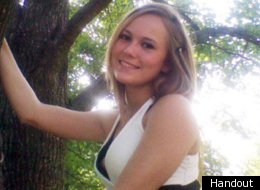 The mother of missing Kentucky teen Paige Johnson has a message for the individual or individuals responsible for her daughter's disappearance: "I just wish they would tell us please what happened and where she is at. Have a heart and do the right thing."
In an exclusive interview with The Huffington Post, Donna Johnson of Florence, Ky., spoke of the incidents leading up to her 17-year-old daughter's abduction.
Paige has been missing since Sept. 23, 2010, when she went to hang out with a 22-year-old acquaintance named Jacob Bumpass, of nearby Taylor Mill, Ky.
The night she left, she came in my bedroom and I thought she said she was going to her sister Brittney's with a friend of hers named Jason. I let her go because I know Jason -- he lives upstairs in the same building. He has picked her up before and took her there," Paige's mother said. "My daughter left and I have not seen or talked to her again."
Roughly two hours later, at about midnight, Paige sent a Facebook message to her older sister, Brittany Haywood. Paige wrote, "GIRL. I need To Talk To You IMMEDIATELY!"
Unfortunately, Haywood never got a chance to find out what her sister wanted.
Questioned by police, Bumpass claimed he dropped Paige off at about 1 a.m. near the corner of 15th Street and Scott Boulevard in Covington, Ky., which is across the Ohio River from Cincinnati. No one has seen her since.
Donna Johnson said she is skeptical about Bumpass' story.
"She wouldn't just get out on a dark street corner four blocks from where she was going," she said. "It wasn't even on the same street. She would have had to make a couple turns, and she doesn't even know that area to know where to make the turns in the middle of the night or early hours of the morning," Johnson said.
"None of it makes sense."
According to police, Bumpass' cellphone records show his phone was not in Covington at the time he said he dropped off Paige, and that it had pinged off a tower in nearby Florence.
Cell phone records further indicate that at about 4:13 a.m., Bumpass' phone pinged a tower in Batavia, Ohio, and then again, five minutes later, off another tower near Half Acre Road in Batavia. The last location is close to East Fork Lake, an Ohio state park that is 25 miles east of Cincinnati.
After reviewing Bumpass' cellphone records, authorities decided to center their search on East Fork State Park. According to the Ohio Department of Natural Resources, it is one of Ohio's largest state parks, covering 4,870 acres. The park's terrain "includes both rugged hills and open meadows," according to the state agency's website.
Investigators started their search by clearing the park's 2,160-acre William H. Harsha Lake, which is more than 100 feet deep in some parts. More than 100 searchers on ATVs and horseback also spread out in the area. Nothing was found during either search.
On Oct. 4, 2010, Bumpass, who is on parole for a theft conviction, was taken into custody for violating his parole because he had alcohol and weapons in his home, authorities said.
For nearly a year, the search for Paige has continued. The Covington Police Department has not returned multiple calls from The Huffington Post, but according to Paige's mother, investigators have told her the case is "far from cold."
Bumpass has not been named as a suspect in Paige's disappearance. He remains behind bars in Kenton County Jail for the parole violation.
Paige's daughter turned 3 years old last month. Donna Johnson said the girl still does not understand what happened to her mother.
"I get her on the weekends," Johnson said. "She will ask where her mom is or say she wants to find her. It is horrible."
Johnson and her mother, Jenny Roderick, do whatever they can to raise awareness, including posting missing person flyers throughout the area -- something that recently caused a bit of a controversy when a Covington police officer asked her not to post the flyers on utility poles because it violates a city ordinance.
Contacted by The Huffington Post, Covington City Manager Larry Klein said a citizen complaint prompted the city to get involved.
"We got a complaint from a citizen about the number of flyers," Klein said. "One of our officers approached the grandmother who had been putting them up and let her know it wasn't permitted."
When local media got wind of the thwarted poster campaign, Roderick gave reporters several interviews, which, according to Johnson, caused the city to lighten up on their posting of the flyers.
"The news got involved [and] then the police chief got on there and said he wouldn't take them down," Johnson said.
While the flyer battle appears to be over, the search for Paige continues. Someone, somewhere knows what happened, and her mother is hopeful they will come forward with information.
"They need to do the right thing and let us know where she is," Johnson said. "She doesn't deserve to be thrown somewhere like a piece of trash. What if it was your sister or your daughter? Put yourself in our shoes. I beg you to tell us, I beg you."
A $3,500 reward is being offered for information regarding Paige Johnson's whereabouts. Anyone with information is asked to call the Covington Police Department at (859) 292-2222 or The National Center for Missing and Exploited Children at (800) 843-5678.